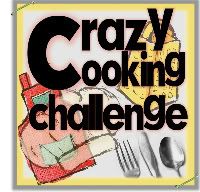 I'm participating in the Crazy Cooking Challenge again this month!
We're making cookies - Chocolate Chip Cookies!
There are so many different variations for chocolate chip cookies. No nuts. Add nuts.
Add oatmeal (my personal favorite). Peanut butter chips. Milk chocolate chips.
When searching for a unique chocolate chip cookie recipe I wanted something
I had never tried or considered before. I found the perfect option on
Olive oil chocolate chips cookies!
Replacing the standard butter with olive oil sounded like a very interesting prospect.
And I have to say, the taste was quite good! The cookies were soft and chewy. Yum!
Next time I would probably add just a bit more
salt.
And I would allow the cookies to bake a tab longer to achieve a
crispy outer
crust similar to what I get from a butter-based chocolate chip cookie.
Give these Olive Oil Chocolate Chip Cookies a try. I think you'll really like them!
Cares
Olive Oil Chocolate Chip Cookies
Combine dry ingredients in a small bowl and set aside. In a large bowl, whisk together sugars, vanilla and olive oil. Then slowly add your eggs. Now add in all of your dry ingredients and chocolate chips. To bring dough together in a firm ball, add a dash of milk.
Spoon heaping tablespoons of dough onto prepared cookie sheets.
Bake cookies until golden, about 10-12 minutes.