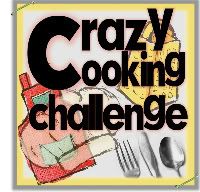 Welcome all, to another installment of the Crazy Cooking Challenge!
This month we were unleashed onto the interwebs to find
the ultimate
Chocolate Cake recipe. A lovely challenge because who
doesn't adore Chocolate Cake? I adore Chocolate Cake.
I adore Chocolate Cake so much that you'll often hear me complaining
about not
having any. All the time. Just ask The Husband.
For instance, The Husband will often times ask me if I would like him to get me a snack.
I'll say, "Yes. I'll have some Chocolate Cake."
He answers with, "Do we have any Chocolate Cake?"
"What else could I get you?" he sweetly asks. Which inadvertently drives
me insane because
all I want is Chocolate Cake.
Never mind the fact that dude is so kindly asking me how he can
accommodate my snacking needs, all I want is cake. Chocolate Cake.
So you can clearly see how this Crazy Cooking Challenge is right up my alley.
A delicious Chocolate Stout Cake recipe was found. A boozy cake with Peanut Butter
Frosting
for snack time - complete win!
Cares
Chocolate Stout Cake
3/4 C cocoa powder, sifted
1 C Young's Double Chocolate Stout
Preheat your oven to 325℉. Prepare two 8" cakes pans by lightly spraying with cooking spray and then dusting each with cocoa powder.
In a small bowl, sift your cocoa powder and set aside. Next, in a small sauce pan, combine your butter and stout. Heat pan over medium-low heat until butter is melted. Remove pan from the heat and whisk in your sifted cocoa powder. Set aside.
In a medium bowl, sift together your flour and baking soda. Add in your sugar and whisk ingredients to incorporate. Set aside.
In a large bowl, whisk together your eggs and sour cream. While still whisking, slowly pour in your stout mixture. Now add your flour mixture, one third at a time, and whisk to thoroughly combine.
Pour your batter evenly between the to cake pans and place into the oven. Bake for approximately 40-50 minutes or until a tester, inserted into the center of each cake, comes out clean. Remove cakes from the oven and allow to cool
15-20 minutes. Remove cakes from their pans and cool completely before icing.
Peanut Butter Frosting
1 C Confectioner's sugar (powdered)
Sift your powdered sugar into a small bowl, set aside.
In the bowl of a stand mixer, with a paddle attachment, mix together your peanut butter, butter and vanilla until just combined. Add your powdered sugar and beat on medium speed for approximately 6 minutes or until light and fluffy.
Add your heavy cream and beat all ingredients for an additional 2 minutes.
Ice your cake as desired. Enjoy!