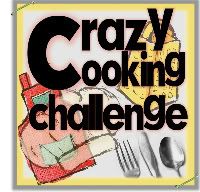 Welcome to this month's Crazy Cooking Challenge! Our focus this
month is
the beloved Grilled Cheese!
A grilled cheese sandwich is the chameleon of comfort food, in my opinion.
It can be as simple and dressed down as two slices of bread and a slice of
your favorite cheese.
Or, it can be dolled up, almost unrecognizable, looking
swanky and tasting
like dream with ingredients that don't often
share space
with the
likes of bread and cheese.
Grilled cheese is never snobbish. It gets along nicely with whatever you throw on it.
And it will still readily provide the warmth and comfort you've been searching for.
For this month's Challenge I chose an enticing recipe I found on foodgawker
a sweet and savory concoction that will woo you into submission.
And isn't that what we want our grilled cheese to do?
I give you - Caramelized Apple
Grilled Cheese!
It is amazing! It's the kind of amazing like when you hear angels singing.
Tart, savory, sweet, warm and gooey. A match clearly made in Heaven.
Cares
Caramelized Apple Grilled Cheese
1 T butter
1 T brown sugar
1 dash of cinnamon
1 apple, peeled, cored and sliced (I used a Granny Smith)
2 thick slices cheddar cheese (I used an aged New Zealand cheddar)
2 slices of bread
1 t butter, softened
In a sauté pan over medium-low heat, melt your T of butter. Add your brown sugar and cinnamon. Stir to incorporate and cook until bubbly. Now add your sliced apple and sauté until apple slices are tender (about five minutes).
Assemble your sandwich and spread the remaining t of butter on the outside facing bread slices. Grill your sandwich until golden and cheese is melty. If your bread is toasting too fast and your cheese has yet to get to the perfect melty point, reduce the heat in your pan a bit and cover the pan with a lid. Allow the sandwich the cook this way for about one minute before checking the melt factor of your cheese. When you've achieved perfection, plate and enjoy!